Swiss Chard Bright Lights
It's both gorgeous and edible! A striking vegetable, this jewel Bright Lights Swiss Chard creates a rainbow of color in veggie and flower gardens. It produces delicious, mildly flavored stems in yellow, gold, orange, pink, violet, green, white, red and even striped! A fantastic addition to your mixed containers or arrangements, its luscious foliage sets off everything around it. And the best part–being a vigorous grower, you won't feel guilty harvesting its continuous supply of nutritious, delicious leaves. Use it to add a beautiful garnish to dishes, or as a tasty addition to your meals.
The tender bronze to dark green leaves are best harvested young for salads, or eaten like spinach or beet greens.
Plant in full sun to partial shade locations. For superior harvests plant in well-drained soil that has been amended with organic matter. Extremely versatile, you can plant it in your vegetable garden, flower garden, or in containers on your patio.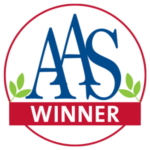 Winner of the prestigious All American Selections award. AAS is an independent, nonprofit organization that tests new varieties and introduces what it considers to be the best garden performers as AAS winners. AAS winners have proven themselves exceptional varieties over a broad range of growing conditions.