Deer Resistant Plants
Here you will find deer resistant plants for the St Louis Missouri area.
Bambi sure is cute but so destructive. But don't give up, you still can have a garden by selecting plants that deer will leave alone. Deer dislike plants with strong scents and taste, and with textures that are hairy or not smooth such as Beebalm. Deer resistant plants include ones with thorns and some grasses with thin leaf blades.
Below is a list of deer resistant Missouri native plants  — but remember, no plant is "fool proof," and what works for you might not work for a neighbor. We also recommend a variety of products, including Plantskydd, Bobbex, and Repellex.
All plants listed here are offered in the nursery, subject to availability. Some of these plants may be ordered online for curbside pickup.
We do not ship plants.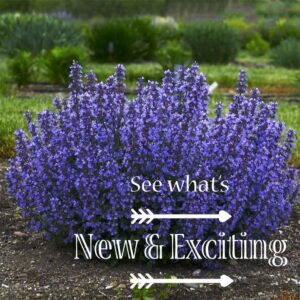 IMPORTANT ONLINE ORDERING INFORMATION
Due to the overwhelming demand, Online Ordering is now closed. Please visit the nursery for your plant purchases.
IMPORTANT PREORDER INFORMATION – PREORDER IS NOW CLOSED – PREORDER PICKUP UPDATE
Thank your for placing preorders. Preorder is now closed. Some ordered plants are available now, many will be available early to mid April. If you have preordered:
1. When all your plants become available we will call you to schedule a pickup date.
2. Pickup instructions: as soon as you arrive on your scheduled pickup date call 314-707-2492. We will bring it to your car, or you may come in the nursery for pickup.
Shop Plants By Type
Shop Plants By Common Name
Shop Plants By Genus
Shop Plants By Botanical Name
Shop Plants By Light Requirements
Shop By Uses
Shop Plants By Resistance
Shop Plants By Height
Shop Plants By Bloom Color
The Garden Gossip
Be up on all the best in gardening, along with great savings with our email newsletter The Garden Gossip!