Sedum – Atlantis Stonecrop
You've never seen a Sedum like this.
Atlantis Sedum came on the scene a few years back and it quickly has become a favorite choice for gardeners.
Over and over we hear comments like "the best plant in my garden," and "stood out on the garden tour."
And for good reason, you'll be mesmerized by its beautifully variegated, fascinating foliage. A groundcover stonecrop, its  serrated leaves are dark green with very wide creamy yellow margins. From a distance, the margins will grab your eye. During the cooler days of fall you'll find the creamy margins have become tinged with pink blush tones.
Atlantis makes a brilliant choice for tucking into rock gardens or dry landscapes, or in combination containers with succulents! Any place you want a spectacular, stand out look. It works fantastic as an edger, mixed with other sun loving perennials, or as a weed smothering groundcover. Like all Sedum, Atlantis thrives on neglect, showing its best colors when grown in dry areas in full sun.
Low, spreading Sedum form a solid mat of foliage which is excellent for covering slopes or can be planted as a groundcover in sunny, dry areas. They are extremely drought tolerant and many are evergreen. These are terrific low-maintenance plants that always look their best. Deer and bunnies don't care for them. Butterflies and other pollinators always visit their nectar rich blossoms.
Major Award Winner
Chelsea Plant of the Year 2019
Silver Medal Plantarium 2019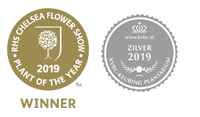 Plant in average, well-draining soil in full sun to part shade.
6″ pot
Categories: All Plants A-Z, Butterfly Attracting Plants, Cut Flower Garden, Drought Tolerant Plants, Ground Covers, Hardy Succulents & Cacti, New and Exciting 2023, Perennials, Popular Selections, Sun Plants for St Louis Missouri.
Tags: Butterflies, Cut Flower, Drought Tolerant, Ground Cover, Succulent.
Find Atlantis Stonecrop Sedum in St Louis Missouri at Sugar Creek Gardens plant nursery and garden shop.