scadmin
Hello Garden Friends,
Spring is walking up the front path and will be knocking at our doors in the coming week. My Hyacinths, Crocus and Daffodils are showing color and a few perennials are waking up in my own garden. Walking my neighborhood I saw Magnolias and Crabapples starting their spring show. While we are all working hard to social distance from each other, remember you don't need to stay away from your plants.
We offer delivery and curbside pick up on orders taken over the phone. Also something new we're going to try out is a drive through menu with plant displays. You will be able to browse and purchase plants without having to leave your car. This should be available in the coming week. See below for some of the beautiful offerings we have right now at the nursery. All pictures were taken in the last few days at Sugar Creek.
'Paris in Pink' Lenten Rose. A vigorous pink flowering Lenten Rose. I highly recommend Lenten Roses for planting for around trees. They take some time to get established, but are worth the wait. Once they settle in each plant will give you hundreds of blooms. One of the first plants to bloom, their flowers come in a wide array of colors which bees adore. Deer and bunnies usually leave their evergreen foliage alone. What more can you ask for in a shade plant? Perennial.
'Romantic Getaway' Lenten Rose. Like 'Paris in Pink' part of the exceptional HONEYMOON series of Lenten Rose. I love how happy these red and white picotee flowers are. Shade perennial.
If you don't want to get up close and personal with loved ones give them a 'French Kiss' Lenten Rose. I swear I will mention other plants besides Lenten Roses, but I had to put in this gorgeous double flower. Shade perennial.
An in-demand plant indeed! Dwarf Fothergilla shrub offers multi seasonal interest. Bristly white flowers bloom in spring followed by minty green textured leaves that turn a beautiful medley of yellow, orange and red in fall. They grow best in sun to part shade and grow to about 2-3′ tall and 3-4′ wide. Hardy shrub.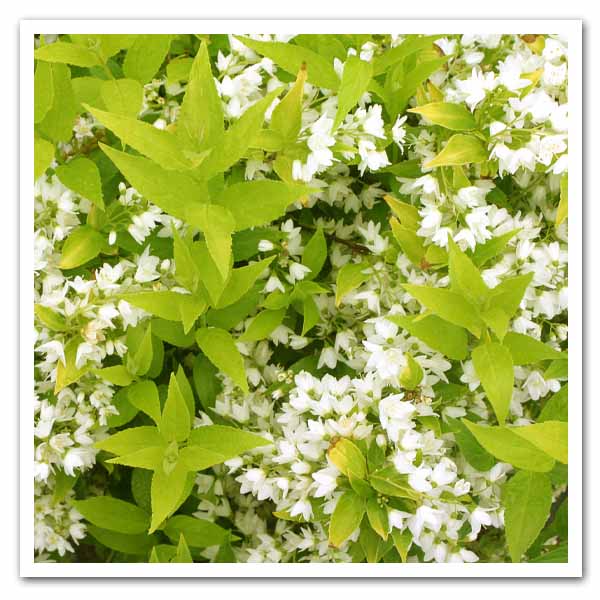 'Chardonnay Pearls' Deutzia. This petite shrub grows about 2-3′ tall and wide and features gorgeous chartreuse to yellow foliage that's electric (boogie woogie woogie woogie…anyone?). Creamy white pearl-like buds open to white star shaped fragrant flowers in spring. Grows in sun to part shade, gets the best color in full sun, but needs some afternoon protection if it's in a drier location. Hardy shrub. Read more here>>
We just received some interesting evergreen shrubs and I want to highlight one that I particularly love: 'Dwarf Pagoda' Japanese Holly. Teeny tiny round leaves cover this small Holly. Having a naturally interesting form without pruning, this is an excellent choice as a specimen or used in bonsai. Grows to about 3′ tall, adding an inch or two of growth in a year. Requires full sun and well drained soil. Plant in a place where it will be protected from winter winds. Shrub.
'Princess Nadia' Ajuga is a giver. A repeat blooming Ajuga, see small purple-blue spikes in spring and again in summer. What's really special about this plant, though is its highly variegated vigorous leaves. These beautiful multi colored leaves emerge pink in spring before tuning into a tricolor of green white and pink. Forming into a dense weed smothering mat, Ajuga is a perfect groundcover for a part to full shade spot. Perennial.
Look at these beautiful Virginia Bluebells – need I say more? Okay, okay. Virginia Bluebells are one of the most delightful Missouri native plants available. These happy pink and blue flowers are one of the first native perennials to bloom. They grow best under deciduous trees where, if they're happy, will grow into large patches. They do go dormant in summer so be sure to plant with other perennials like Hostas which will cover up the bare spots in summer. Read more here>>
Slender Mountain Mint is a pollinator magnet. If you're concerned about helping the insects, which we all should be, consider planting a pollinator garden. The latest studies say that if the rate of insect decline stays steady all insects could be extinct in a century. This is partially due to habitat loss. Adding even a small pollinator garden in your yard can help to make a difference. What I love about Slender Mountain Mint aside from its pretty white pollinator friendly blooms is its small lacy foliage. I think it looks like the annual asparagus fern, but unlike the annual fern this will easily comes back in the sunny garden. Don't be scared by the word "mint" in its name- this plant won't run all over your garden. Missouri native sun perennial. Read more here >>
Maybe I'm just a garden addict, but one of my favorite things about gardening is watching the plants wake up. Here's a picture of a new Sedum we're growing called 'Boogie Woogie' (Maybe that's why the 'Electric Slide' has been playing over and over again in my mind). I'm loving the way the foliage wakes up all white and pink before turning to its green white variegation. Sun perennial.
The holy grail of Oakleaf Hydrangeas, we got are hands on some 'Little Honey'. The honey yellow oak-leaf shaped leaves glow in the shady garden. In fall leaves turn flaming red. Limited numbers available-if you want one come in soon.
Our 'The Rising Sun' Redbuds are beginning to flower. One of the prettiest trees available, once the leaves emerge the real show begins. Leaves are a gradient of lime to green to  yellow to orange all season long. If you're ever in the south city area, Ascension Lutheran Church has a mature specimen along Francis Park that is breathtaking. It's one of my favorite parts of my (semi) daily (monthly) morning run. Read more here >>
Speaking of trees, we have a bunch of unusual Japanese Maples in stock at the moment. We have a couple that have pink to purple foliage, some with interesting stem colors on top of their unique foliage. The one pictured is name 'Kiyohime', which I particularly love for its photogenic qualities.
We have lots of herbs and veggies available including lettuce, broccoli, cauliflower, beets, kale, chives, mint and many more. A couple of my favorites for this time of year are the 'Red Russian Kale' and 'Bright Lights' Swiss Chard. They both can be harvested well into the summer, I've even harvest into fall on some of them. Swiss Chard is an under appreciated home grown veggie. It's tough and beautiful – I personally think it deserves a place in the ornamental garden in addition to the veggie garden. And if you're feeling motivated look up a recipe to make Swiss Chard ravioli. You won't be disappointed. To learn more about spring vegetable gardening read more here. >>
We have many more items available right now including Pansies, our much-loved Ruffled Pansies Rannuculus, and other cool weather annuals to make some creative containers . If you're curious about something give us a call. We are happy to chat plants. We are currently open 10-4 Monday through Saturday and 12-4 on Sunday. These hours may change, so please call or check our website before coming in.
Hope to see you!
Abby Lapides